FEATURES FUMI ASHTRAY
Fumi ashtray with hot-dip galvanized finish, 300x300x1000 mm high. For outdoor use.
Ashtray made of sheet iron and with a top bowl to put out cigarettes. Emptying of the ashtray at the top by means of a triangular key, when the key is unlocked the bucket can be tilted to empty it. Floor fixing by means of a hidden plate.
It is delivered in two parts, plate and ashtray to join and fix on site.
Standard finishes:
Hot dip galvanized. - Ref. CFUMIGC01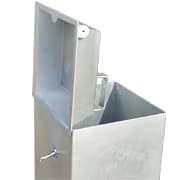 Tilting emptying detail ashtray.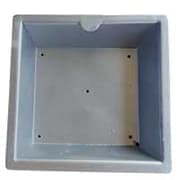 Detail upper part tilting top bowl.