ACACIA TREE / STREET LAMP PROTECTOR
Protector for trees or lampposts Iron Acacia ideal for public places: parks, gardens, schools, town halls... as well as in private places: urbanizations, communities of owners...
MEASURES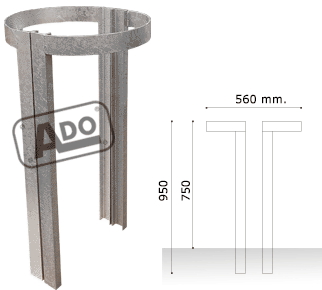 Ref. PTACACIAG
Measures:
Height: 950 mm.
Width: 560 mm.
FEATURES ACACIA PROTECTOR TREES
Acacia protector for trees built in two halves, manufactured from a cylindered upper plate and 2 fastening feet each half of corten steel.
Standard finishes:
Galvanized. - Ref. PTACACIAG
Corten steel. - Ref. PTACACIAC
Corten finish options:

No blasting

Blasting

Activate and stop rust

Varnished
* The appearance of corten steel varies according to the processes selected by the client.
More information:
TECHNICAL SERVICE AND SALE OF METALLIC TREE PROTECTORS / STREETLIGHTS
We have a technical department to provide service and advice on installations, we are manufacturers of protectors for streetlights / trees to embed in the ground and installers of balaitus metal protectors.