Home
>
Other products
>
Column impact protections
IMPACT PROTECTORS FOR VEHICLES IN PARKING/GARAGES
Impact protection systems specially designed to adapt to all types of columns and angles that can represent a danger when maneuvering your vehicle. Protections against scratches and small bumps in all types of car parks. We all have a range of standard and tailor-made products for the protection of garages and car parks indoors and outdoors.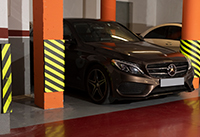 IMPACT PROTECTORS FOR PARKING/GARAGES
Protector of special vehicles for shock absorption. Ideal for installing in garages and indoor or outdoor parking lots.
TECHNICAL SERVICE AND SALE OF FOAM IMPACT PROTECTORS
We have a technical department to provide service and advice in the facilities, we are manufacturers of foam impact protectors to protect vehicles.