Arkansas model double tripod turnstile for the control of passage in one or both directions, through one or two corridors by means of mechanical, electrical systems or by means of card readers. Furniture structure with reduced dimensions to channel the steps, on both sides.
Availability for the placement of readers as well as their electronics as long as their dimensions allow their installation in the cabinet.
Possibility of installing several turnstiles in the same installation.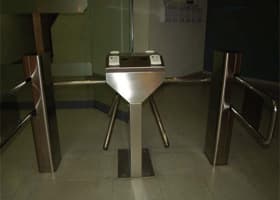 Measures:
Total height: 1050 mm.
Width: 450 mm.
Lenght: 500 mm.
Arm height: 840 mm.
Arm lenght: 470 mm.
Recommended step width: 520 mm. for passageways.