FEATURES TETRAPOD POLICE CONTROL
Police tetrapod manufactured in plastic polyethylene, with a great flexibility that allows them to withstand great impacts and the degradation of solar rays.
They have a great stability due to their system of multiple support, of fast use and easy storage.
Ideal for the use in most police checks, roads, cities or emergency situations.
The police tetrapods are provided with a reflective tape Level II.
Orange. - Ref. CTETRA01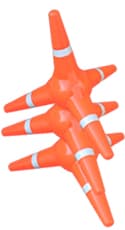 More information