FLEXIBLE ROAD DELINEATORS
Plastic road delineators ideal to delimit lanes, to signal urban roads, car parks… Great variety of flexible road delineators to choose, according to the customer needs.
You can choose between our huge range of flexible delineators, each adapted to our customer's needs.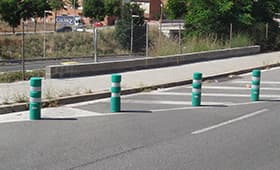 FLEXIBLE DELIMITER POSTS MODELS
Flexible delimiter posts. In case of an impact, they return to their original position.
FLEXIBLE DELINEATORS/BOLLARDS MODELS
Plastic road delineators with the most current designs, ideal for bollards and adaptable to all types of settings. The flexible road delineators allow for a degree of flexibility, thus avoiding possible damages to people or vehicles.
SEMIFLEXIBLE DELINEATORS/BOLLARDS MODELS
Semiflexible plastic delineators. Hitos de plástico semiflexibles. They have a limited flexibility, avoiding possible damages to pedestrians and vehicles.
MODELS DELIMITATOR POST
Fixed flexible plastic delimitator. Flexible or semi-flexible plastic bollards. Mounting of built-in bollards or by metal plugs depending on the model.
LANDMARKS TO BE INSTALLED WITH METALLIC PLUGS
Los hitos a instalar, están concebidas para ser montadas en superfície con tacos metalicos roscados. Son ideales para las instalaciones de "ultimo minuto" y para los lugares que no permiten la menor excavación.