Home
>
Street furniture
>
A-Flex bollards
>
A-FLEX DT flexible fixed bollards for bike lanes
A-FLEX DT FLEXIBLE FIXED BOLLARDS FOR BIKE LANES
A-Flex DT flexible fixed bollards for bike lanes (double milling and double reflective strips), are made with a new formula that makes them returns to their original position and shape after an impact, so they're practically indestructible.They are manufactured with a formulation of materials that, upon receiving an impact, returns the bollard to its original shape and position. Becoming a practically indestructible bollard.
Their rigidity depends on the place where they're installed. They can avoid vehicle's transit in pedestrian areas or simply flexing after the impact of a vehicle as a warning sign for the driver when he is diverting the way.
Flexible bollards for bike lanes suitable to delimitate and protect cyclists and pedestrians.
A-FLEX DT FOR BIKE LANES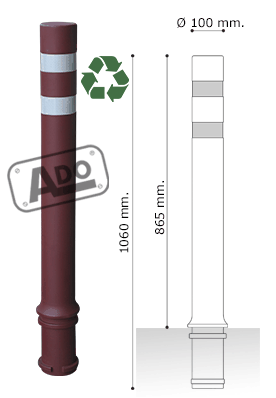 | | |
| --- | --- |
| Reference | Color |
| PFLEXDTHG | |
FEATURES

Practically unbreakable.

100% recyclable.

Not painted. Doesn't rust. Maintenance-free.

Memory bollard; in case of an impact, it returns to its original shape and position.

Excellent impact resistance and flexibility on a wide range of temperatures.

High resistance to many solvents, oils and greases.

High resistance to abrasion.

Pleasant touch.

Aesthetically identical to metal bollards.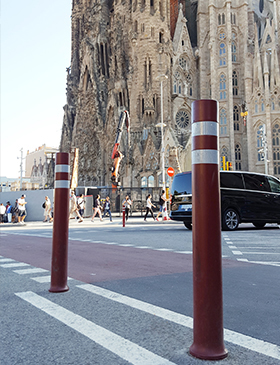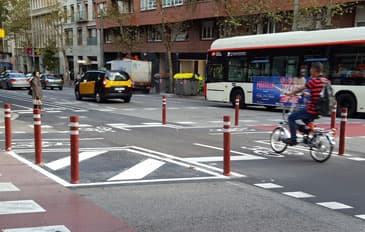 ADVANTAGES COMPARING TO OTHER BOLLARDS
Vs bollards made of metal:
- Doesn't rust
- Less weight
- Less noise generated
- Corrosion resistance
- Maintenance-free
Vs bollards made of plastic:
- No fragility
- Elastometric memory (compression resistance set)
- Abrasion resistance
Vs bollards made of rubber
- Abrasion resistance
- Cut and tear resistance
- Push and dynamic loads resistance
- Ozone resistance
Vs bollards made of casting polyuretene:
- Works at high temperatures
- No crystallizing (final break of the bollard)
- High resistance to wet environments (even hydrolisis)
- Numerous chemical agents presence
Related products: