Home
>
Street Furniture
>
Cycle lane defenders
ROAD SEPARATORS / CYCLE LANE SEPARATORS
Road separators made of recycled plastic or rubber, available in one-piece or modular designs (depending on the model), specifically designed to separate lanes (bus, bicycle, etc.) in urban roads.
With the cycle lane separator, we achieve an effective separation between a lane and the adjacent lanes in an exclusive bicycle or scooter lane (cycle path) to improve traffic visibility and road safety.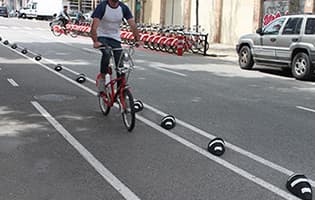 RUBBER CYCLE LANE DEFENDERS
Rubber cycle lane defenders: one-piece or modular, easy adaptation to any kind of urban roads.

CYCLE LANE DEFENDERS MADE OF RECYCLED MATERIAL
Plastic Road Separators for bike lanes with recycled materials, easy adaptation to any kind of urban roads.
A-FLEX DT FLEXIBLE BOLLARDS FOR BIKE LANES
A-Flex DT flexible bollards for bike lanes in maroon color, ideal for marking out bicycle lanes to protect cyclists and pedestrians.
MODELS OF ROAD SEPARATORS
Vial separators in rubber or plastic. Bike lane dividers with the most current designs adaptable to all types of environments. On request, possibility of customizing the separators. Mounting of road dividers by screwing them to the ground.
We advise our clients on the type of road dividers for bicycle lanes that best suit them, since many factors influence such as location, vandalism, functionality, space...