Home
>
Street furniture
>
Tree / Street lamp protectors
TREE / STREET LAMP PROTECTORS
Trees / Street lamps protectors standard or made-to-measure, according to the customer's design and needs. We produce protectors made of: metal, coating iton, galvanized steel, corten steel or stainless steel.
We manufacture trees and street lamps protectors.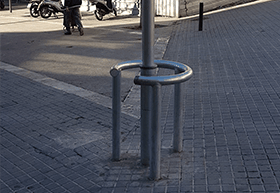 TREE / STREET LAMP PROTECTORS
MODELS OF PROTECTORS FOR TREES / STREETLIGHTS
Protectors in iron, stainless steel or corten steel. Protectors for trees with the most current designs adaptable to all types of environments. On request, possibility of personalizing the protectors. Mounting of protectors by embedding.
We advise our clients on the type of protectors that best suit them, since many factors influence such as location, vandalism, functionality, space...