Home
>
Street furniture
>
A-Flex bollards
>
A-FLEX High-resistance flexible fixed bollards ° 80
A-FLEX ø 80 POLYURETHANE FLEXIBLE BOLLARDS
Research and development department has improved our bollards formula by developing a higher quality and strength flexible bollards, called A-FLEX ø 80, with the aim to improve our A-Resist polyurethane flexible bollards.
These A-FLEX flexible bollards return to their original shape and position after an impact, making them practically indestructible.
A-FLEX ° 80 FLEXIBLE BOLLARDS - MODELS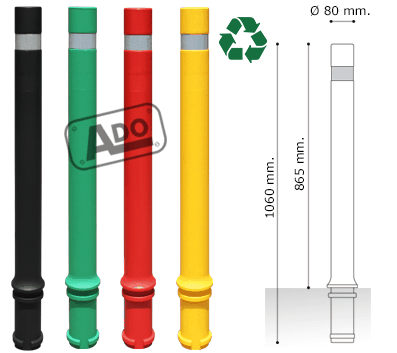 | | |
| --- | --- |
| Reference | Color |
| PFLEX80HN | |
| PFLEX80HV | |
| PFLEX80HR | |
| PFLEX80HA | |
FEATURES

Practically unbreakable.

100% recyclable.

Not painted. Doesn't rust. Maintenance-free.

Memory bollard; in case of an impact, it returns to its original shape and position.

Excellent impact resistance and flexibility on a wide range of temperatures.

High resistance to many solvents, oils and greases.

High resistance to abrasion.

Pleasant touch.

Aesthetically identical to metal bollards.

OPTIONAL ACCESORIES
Bespoken special designs.
Non-standard colors (RAL colors, Corten imitation).
Road signs adaptation.
Ring for chains.
Customized logo.
Reflective strips in other colors.
As we are manufacturers, we can adapt our bollards according to the customer's needs.
More información:
ADVANTAGES COMPARING TO OTHER BOLLARDS
Vs bollards made of metal:
- Doesn't rust
- Less weight
- Less noise generated
- Corrosion resistance
- Maintenance-free
Vs bollards made of plastic:
- No fragility
- Elastometric memory (compression resistance set)
- Abrasion resistance
Vs bollards made of rubber
- Abrasion resistance
- Cut and tear resistance
- Push and dynamic loads resistance.
- Ozone resistance
Vs bollards made of casting polyuretene:
- Works at high temperatures
- No crystallizing (final break of the bollard)
- High resistance to wet environments (even hydrolisis)
- Numerous chemical agents presence
Related products: