Home
>
Street furniture
>
Flexible bollards
>
A-Blen TT ø 80 screw bollard
A-BLEN TT FLEXIBLE BOLLARDS Ø 80 SCREW BOLLARD (patented models)
Flexible polyurethanebollard A-Blen TT ° 80 to be screwed to the ground. Easy installation by having a single screw to be screwed into the pavement, without losing the characteristics of the A-Blen bollard.
Flexible bollard designed for road marking, ideal for roads, bicycle lanes and parking lots. Very resistant bollard, after receiving an impact it returns to its original shape and position. Being a practically indestructible bollard.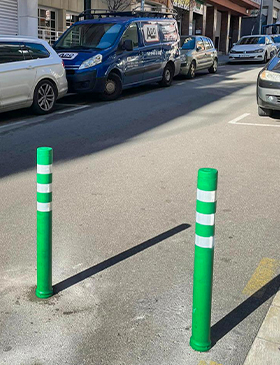 A-BLEN TT FLEXIBLE SCREW BOLLARDS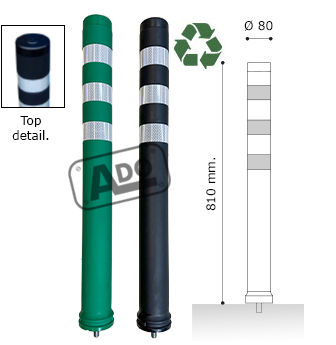 | | |
| --- | --- |
| Reference | Color |
| PBLENTT80N | |
| PBLENTT80V | |
FEATURES

Memory bollard; in case of an impact, it returns to its original shape and position.

100% recyclable.

Not painted. Doesn't rust. Maintenance-free.

Excellent impact resistance and flexibility on a wide range of temperatures.

High resistance to many solvents, oils and greases.

High resistance to abrasion.

Pleasant touch.

Aesthetically identical to metal bollards.
EASY INSTALLATION
1-Make a hole in the ground in order to place the anchorage.
2- Clean the hole once it is done and fill it with Epoxi resin.

3- Introduce the anchorage in the hole and wait until it gets dry.

4- Screw the bollard manually.

5- Finish screwing the bollard with the help of the optional key.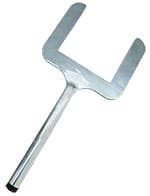 Optional: Key to fix the bollard.
A-Blen °80.
Ref. LLBLENT80
ADVANTAGES COMPARING TO OTHER BOLLARDS
Vs bollards made of metal:
- Doesn't rust
- Less weight
- Less noise generated
- Corrosion resistance
- Maintenance-free
Vs bollards made of plastic:
- No fragility
- Elastometric memory (compression resistance set)
- Abrasion resistance
Vs bollards made of rubber
- Abrasion resistance
- Cut and tear resistance
- Push and dynamic loads resistance.
- Ozone resistance
Vs bollards made of casting polyuretene:
- Works at high temperatures
- No crystallizing (final break of the bollard)
- High resistance to wet environments (even hydrolisis)
- Numerous chemical agents presence
OPTIONAL ACCESORIES
Ring for chains.
Customized logo.
Reflective strips in other colors.
As we are manufacturers, we can adapt our bollards according to the customer's needs.
More information:
Related products:
TECHNICAL SERVICE AND SALE OF FLEXIBLE POLYURETHANE BOLLARDS / BOLLARDS
We have a technical department to provide service and advice in the facilities, we are manufacturers of flexible polyurethane bollards of °80 and °100 A-Blen models, we have all kinds of Applus Idiada technical certificates, CE certificate, face and back impact resistance, Class E fire resistance, vehicle impact tests, Hflex bollard installers or Barcelona Flexbook C-430-TPU.