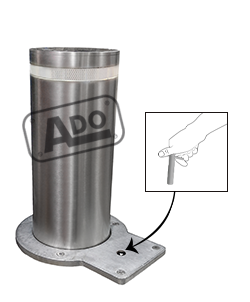 Upper-middle range hydraulic Abu Dabi semiautomatic telescopic bollards, ideal for places which require impact high-resistance.
Semiautomatic bollards built with a tubular structure(rod), in AISI 304 stainless steel. The chassis is made of hot-dip galvanized steel, hydraulic motor, box caisson made of galvanized steel.
Semi automatic bollards are perfect for town halls, consulates, banks, shopping centres, luxury shops, ...
ABU DABI MODEL SEMIAUTOMATIC CUSTOMIZATION
OPTIONAL FIHISHES SEMIAUTOMATIC ABU DABI BOLLARDS
More information:
Related products:
TECHNICAL AND AFTER-SALES SERVICE
We have a technical department to provide service and support in the facilities. We are manufacturers and installers of automatic and semi-automatic bollards. Our bollards are shipped with an easy-to-install kit and assembly instructions.
Automatic bollards, semi-automatic pivots, automatic bollard, semi-automatic, removable bollard, automatic retractable bollards, automatic bollards, semi-automatic bollards, automatic retractable bollards, access control, license plate reading, remote controls, automatic bollard installers, retractable bollards, removable bollards, retractable bollards, telescopic bollards, maintenance, automatic pivots, automatic bollards, streets, parks, town halls, public areas, pneumatics, prices, budget, automata, PLC, Siemens, control center, magnetic loop, presence detector, automatic retractable bollards, automatic bollards, automatic pivots, automatic stainless steel bollard, automatic security bollards, automatic anti-moon bollards, automatic retractable anti-theft bollards, semi-automatic bollards, security bollards, automatic iron bollard, semi-automatic bollard.
Upon request, we can manufacture semi-automatic and automatic bollards according to customer needs, adapting to all types of designs, measurements and thicknesses that the customer needs.
Consult with our commercial technicians so they can advise you on the semiautomatic bollards that best suit your needs.