FLEXIBLE FIXED LIGHTING BOLLARD WITH PLATE
Bollard with solar light beacon on top that activates automatically when it gets dark, white led perimeter light. Possibility of fixed or flashing light depending on the model to choose.
Ideal bollard for lighting pathways, pedestrian areas, gardens, entrances, parks,...
Standard finishes:
A-flex black + fixed white led light. - Ref. PFLEXHNPLSBF
A-flex black + flashing white led light. - Ref. PFLEXHNPLSBI
Optional:
Double reflective strip.
Other colors to consult.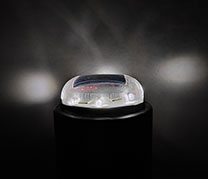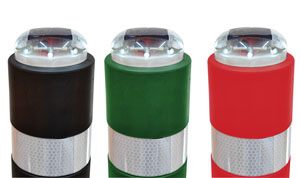 Accessories:
1 ring for bollard. - Ref. S1AP
2 rings for bollard. - Ref. S2AP
Galvanized chain of ø 6 mm. - Ref. CG6100
40mm brass padlock. with steel arch. - Ref. CNMCAD40
FEATURES

Practically unbreakable.

100% recyclable.

Not painted. Doesn't rust. Maintenance-free.

Memory bollard; in case of an impact, it returns to its original shape and position.

Excellent impact resistance and flexibility on a wide range of temperatures.

High resistance to many solvents, oils and greases.

High resistance to abrasion.

Pleasant touch.

Aesthetically identical to metal bollards.