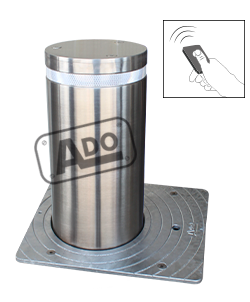 High-range hydraulic automatic telescopic bollards (with box caisson) designed for intensive use, impact and vandalism high resistance.
Automatic bollards built with a tubular structure (rod), in AISI 304 stainless steel. The chassis is made of high-robustness electro welded steel, hydraulic motor, galvanized iron box caisson with framing.
Automatic Bollards suitable for town halls, consulates, banks, shopping centers, luxury shops, ...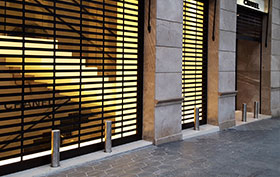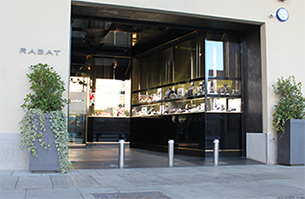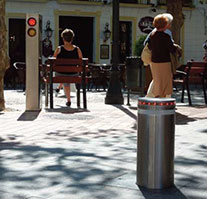 SYDNEY MODEL AUTOMATIC CUSTOMIZATION
Customized logo, emblem or text (dotted micro, laser or acid).
Special designs (according to customer needs).

Emblem, logo or text customization

Bespoken telescopic bollards
OPTIONAL FIHISHES AUTOMATIC SYDNEY BOLLARDS
Led ring 360º. with several colors to choose (RGB).
Gradient bollard construction according to slope or street level.
Vertical milling (6, 8 or 12 millings, according to the bollard ø).
Additional level 3 reflective tapes + horizontal milling.
Heater (to prevent ice formation).
Lower cover of stainless steel AISI 304 (on request AISI 316).
Bollard positioning micro indicators.

Vertical milling
Extra milling

Limit switches

Stainless steel chassis cover

Corten steel
ACCESORIES AUTOMATIC SYDNEY BOLLARDS
Opening systems to be chosen by the client: Remote controls, pushbuttons, proximity cards, TAGS, mobile phone opening system, license plate reader, time programming.
Sound detector (identifies the signal of approved sirens, ambulances, police, firemen,...) and lowers the bollards to allow emergency vehicles to pass without having to stop.
Security vehicle detectors (magnetic loop).
Security alarm so that the bollard is not manipulated.
Access control post.
Signal traffic light.
Automatic bollards caution traffic sign.

Top opening
detector

Metallic mass
detector

Connection kit

Heating

Traffic signals

Box Caisson

Road plate
Bollard manipulated alarm
More information:
Related products:
TECHNICAL AND AFTER-SALES SERVICE
We have a technical department to provide service and support in the facilities. We are manufacturers and installers of automatic and semi-automatic bollards. Our bollards are shipped with an easy-to-install kit and assembly instructions.
Automatic bollards, semi-automatic pivots, automatic bollard, semi-automatic, removable bollard, automatic retractable bollards, automatic bollards, semi-automatic bollards, automatic retractable bollards, access control, license plate reading, remote controls, automatic bollard installers, retractable bollards, removable bollards, retractable bollards, telescopic bollards, maintenance, automatic pivots, automatic bollards, streets, parks, town halls, public areas, pneumatics, prices, budget, automata, PLC, Siemens, control center, magnetic loop, presence detector, automatic retractable bollards, automatic bollards, automatic pivots, automatic stainless steel bollard, automatic security bollards, automatic anti-moon bollards, automatic retractable anti-theft bollards, semi-automatic bollards, security bollards, automatic iron bollard, semi-automatic bollard.
Upon request, we can manufacture semi-automatic and automatic bollards according to customer needs, adapting to all types of designs, measurements and thicknesses that the customer needs.
Consult with our commercial technicians so they can advise you on the automatic bollards that best suit your needs.