Flexible bollards lighting with plate A-flex LEDs on the upper part of low consumption 12v, the flexible bollards A-FLEX are made of polyurethane plastic.
Flexible bollard ideal for places that do not require embedment with a 160x160 mm bottom plate. After receiving an impact, they return to their original shape and position, overcoming a bending of 2000 cycles at 90º without any crack or deformation appearing. Being a practically indestructible bollard. Fixing by 4 metal studs (not included).
Bollard that offers great lighting on public roads with very low electrical cost.
Bollard ideal for lighting paths, pedestrian areas, gardens, entrances, parks, ...
Standard finishes:
A-flex black + light led white. - Ref. PFLEXHNPLB
A-flex black + light led red. - Ref. PFLEXHNPLR
Optional:
Double reflective strip.
Other colors to consult.
Possibility of choosing different colors of RGB LEDs as well as patterns and operating sequences.

Stainless steel upper reinforcement plate for a
better fixation to the ground. - Ref. PLPFLEX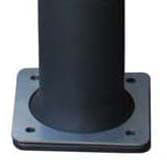 Screws block of 10. - Ref. T10X135

Accessories:
1 ring for bollard. - Ref. S1AP
2 rings for bollard. - Ref. S2AP
Galvanized chain of ø 6 mm. - Ref. CG6100
40mm brass padlock. with steel arch. - Ref. CNMCAD40
FEATURES

Practically unbreakable.

100% recyclable.

Not painted. Doesn't rust. Maintenance-free.

Memory bollard; in case of an impact, it returns to its original shape and position.

Excellent impact resistance and flexibility on a wide range of temperatures.

High resistance to many solvents, oils and greases.

High resistance to abrasion.

Pleasant touch.

Aesthetically identical to metal bollards.