Home
>
Street furniture
>
Light bollards
>
Flexible bollard lighting with plate A-Flex Leds
FLEXIBLE BOLLARD LIGHTING WITH PLATE A-FLEX LED
Flexible bollards lighting with plate A-flex LEDs on the upper part of low consumption 12v, the flexible bollards A-FLEX are made of polyurethane plastic.
Flexible bollard ideal for places that do not require embedment with a 160x160 mm bottom plate. After receiving an impact, they return to their original shape and position, overcoming a bending of 2000 cycles at 90º without any crack or deformation appearing. Being a practically indestructible bollard. Fixing by 4 metal studs (not included).
MEASURES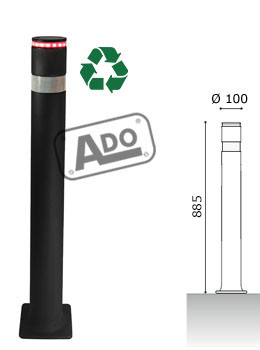 Measures:
Diameter: ø 100 mm.
Height: 885 mm.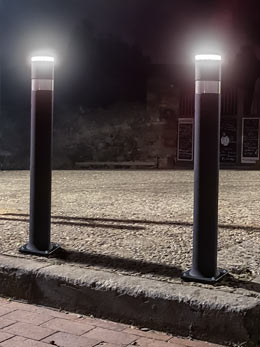 More information:
FLEXIBLE FIXED LIGHTING BOLLARD WITH PLATE
Bollard that offers great lighting on public roads with very low electrical cost.
Bollard ideal for lighting paths, pedestrian areas, gardens, entrances, parks, ...
Standard finishes:
A-flex black + light led white. - Ref. PFLEXHNPLB
A-flex black + light led red. - Ref. PFLEXHNPLR
Optional:
Double reflective strip.
Other colors to consult.
Possibility of choosing different colors of RGB LEDs as well as patterns and operating sequences.

Stainless steel upper reinforcement plate for a
better fixation to the ground. - Ref. PLPFLEX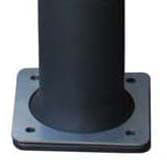 Screws block of 10. - Ref. T10X135

Accessories:
1 ring for bollard. - Ref. S1AP
2 rings for bollard. - Ref. S2AP
Galvanized chain of ø 6 mm. - Ref. CG6100
40mm brass padlock. with steel arch. - Ref. CNMCAD40
FEATURES

Practically unbreakable.

100% recyclable.

Not painted. Doesn't rust. Maintenance-free.

Memory bollard; in case of an impact, it returns to its original shape and position.

Excellent impact resistance and flexibility on a wide range of temperatures.

High resistance to many solvents, oils and greases.

High resistance to abrasion.

Pleasant touch.

Aesthetically identical to metal bollards.

TECHNICAL SERVICE AND SALE OF FLEXIBLE POLYURETHANE BOLLARDS
We have a technical department to provide service and advice in the facilities, we are manufacturers of flexible polyurethane bollards of ø80 and ø100 A-Flex Leds models, we have all kinds of Applus Idiada technical certificates, CE certificate, face and back impact resistance , fire resistance Class E, impact tests with vehicles, Hflexled bollard installers.