AQUA BOLLARD
Aqua bollard built with corten steel sheet with a stainless steel top with marine motifs (starfish, seahorses, fish, dolphins, octopuses, whales, ...). Total height 1000 mm.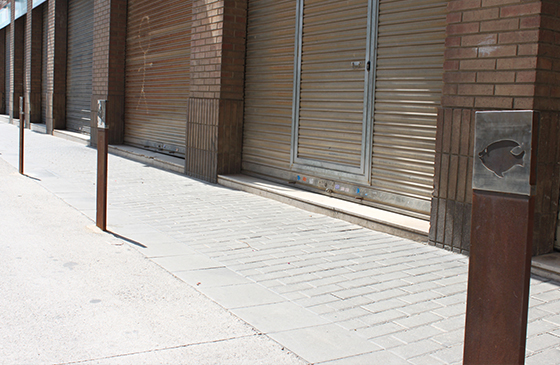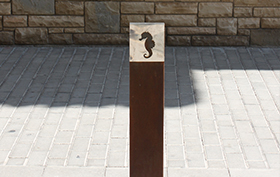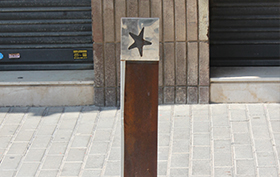 MEASURES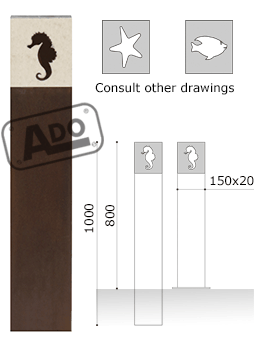 Measures:
Width: 150x20 mm.
Visual height: 800 mm.
Total height: 1000 mm.
FEATURES FIXED BOLLARD AQUA
Bollards built with 150x20 mm corten steel sheet. with stainless steel top.
Overall height 1000mm.
Finishes:
Corten steel. - Ref. PAQUACCM (Seahorses)
Corten steel. - Ref. PAQUACEM (Starfish)
Corten steel. - Ref. PAQUACP (Fish)
Oxiron. - Ref. PAQUANCM (Seahorses)
Oxiron. - Ref. PAQUANEM (Starfish)
Oxiron. -Ref. PAQUANP (Fish)
Optional:
Plate for bollard ø 100/120 mm. - Ref. SUPP1
Top customizes according to customer design.
Customization with delogo engraving.
Other colors to consult.
Recommended screws bollard with plate:
For concrete: Block of 11. - Ref. T11L

For asphalt / panot: Block of 10. - Ref. T10X135

Accessories:
1 ring for bollard. - Ref. S1AP
2 rings for bollard. - Ref. S2AP
Galvanized chain of ø 6 mm. - Ref. CG6100
40mm brass padlock. with steel arch. - Ref. CNMCAD40
Corten finish options:

No blasting

Blasting

Activate and stop rust

Varnished
* The appearance of corten steel varies according to the processes selected by the client.
More information:
TECHNICAL SERVICE AND SALE OF FIXED IRON BOLLARDS
We have a technical department to provide service and advice on the facilities, we are manufacturers of fixed iron bollards of 150x20 Paqua to embed or screw to the ground.