Dog litter bin, metal with a garbage bags dispenser for dogs incorporated. Litter bin and bags dispenser manufactured with grey lacquered iron sheet or in stainless steel. Both are joined by a folded metal sheet, which gives the product a box shape. Design litter bin with garbage bags which helps us keeping the environment clean, facilitating the collection of solid droppings. Opening and closing system by means of a key.
Measures:
Width: 350x180 mm.
Height: 1200 mm.
Bag dimensions: 250x340 mm.
Litter bin capacity: 34 l.
Standard finishes:
Green. Ref. PBOXV01
Grey. Ref. PBOXG01
Brown. Ref. PBOXM01
Stainless steel.
Ref. PBOXI01
Corten imitation.
Ref. PBOXIC01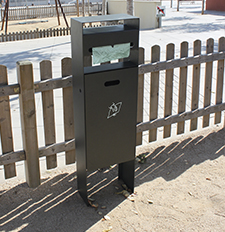 Bags:
Box bags (10 rolls of 500 bags).
Ref. BEMUSI02


Detail bags dispensor's opening with Torx key supplied.
Optional:
Personalization with logo engraving.
(dotted or serigraphed).
Other colors to consult.
Upper tray for 350x300 mm posters.
Ref. SBCARPI
11 screw plug. - Ref. T11L