CILINDRO REMOVABLE BOLLARDS
Cilindro removable bollard manufactured with an iron tube with 95 / 200 mm. of diameter and 2,5 mm. of thickness, with reflective tape at the top for a greater visibility. Total height 1000 mm.
Ground anchoring base for bollard housing with universal key lock on the top cover of the base.
MEASURES
Ref. PHGCE
Measures:
Diameter: ø 95 / 200 mm.
Visual height: 800 mm.
Total height: 1000 mm.
Thickness: 2,5 mm.
FEATURES CILINDRO REMOVABLE BOLLARD
Bollards built with internal and external anti-rust galvanized iron tube.
Upper part with rounded edges avoiding possible damage to people.
Anti-poster/sticker surface treatment.
Galvanized iron tube with a diameter of 95 / 200 mm. and 2.5mm thick.
Total height 1000 mm.
Standard colors:
Oxiron Grey ø 95 mm. - Ref. PHGCE
Oxiron Grey ø 200 mm. - Ref. PHGCE02
Optional:
Removable base with padlock.
Reflecting tape.
Extra removable base. - Ref. BEXTRA95
Extra removable key. - Ref. LLPE
Possibility of manufacturing in imitation corten or in other colors (according to Ral letter).
Accessories:
1 ring for bollard. - Ref. S1AP
2 rings for bollard. - Ref. S2AP
Galvanized chain of ø 6 mm. - Ref. CG6100
40 mm brass padlock. with steel arch. - Ref. CNMCAD40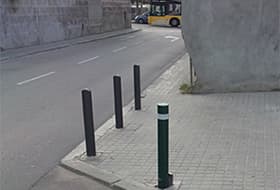 More information:
TECHNICAL SERVICE AND SALE OF REMOVABLE IRON BOLLARDS
We have a technical department to provide service and advice in the facilities, we are manufacturers of removable iron bollards of ø95 Pcubee to embed the removable galvanized base into the ground. installers dalia bollard H314M-1, sant cugat bollard C-522G.