The reinforced city bollard replaces the Hospitalet or Barcelona 92 bollard, the reinforced City bollard is built in a single piece avoiding the breakage of the upper part of the bollard, by means of its two lateral iron reinforcements, located just above the steel ring stainless.
Our City bollard has been created at the request of the municipalities to solve the problem of the upper breakage of bollards with stainless steel ring that can harm pedestrians, damage the image of the city and the places where they are installed.
In this way we have created our CITY REINFORCED bollard in a single piece.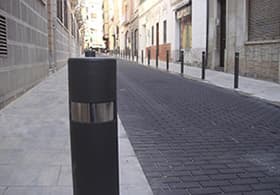 Features new CITY REINFORCED bollard:
Bollards built with interior and exterior anti-rust galvanized iron tube.
Upper part with rounded edges avoiding possible damage to people.
Anti-poster / sticker surface treatment.
Galvanized iron tube with a diameter of 95 mm.
Total height 970 mm. 40mm top ring.
Standard finish in grey oxiron or imitation corten.
Standard finishes:
Oxiron grey. - Ref. PCITY
Corten imitation. - Ref. PCITYIC
Optional:
Logo customization:
- Logo creation on bollards. - Ref. CRELOG
- Preparation of the logo on an engraving machine. - Ref. CRELOGMAQ
- Engrave logo on 1-sided bollards. - Ref. LOGPI1C
- Engrave logo on 2-sided bollards. - Ref. LOGPI2C

Reflecting tape.
Other colors (according to Ral chart).
Accessories:
1 ring for bollard. - Ref. S1AP
2 rings for bollard. - Ref. S2AP
Galvanized chain of ø 6 mm. - Ref. CG6100
40mm brass padlock. with steel arch. - Ref. CNMCAD40