Removable reinforced city bollard manufactured in a single piece to solve this common problem that can harm pedestrians and damages the image of the city and the places where they are installed.
Galvanized base for anchoring to the ground, to house the bollard to lock it with a universal triangular key lock on the upper part of the bollard.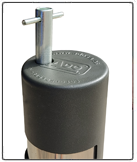 Easy opening and closing.
Features:
Bollards built with galvanized iron tube.
Iron tube with a diameter of ø 95 mm. and 3 mm. of thickness.
Total height 970 mm.
Iron tube cut by laser joining the upper and lower parts by 2 strips of the same tube, thus avoiding the frequent breakage of the upper part of the Hospitalet bollard.
Iron finish painted in black oxiron, wood imitation and Ral letter color to choose from.
Optional:
Logo customization:
- Logo creation on bollards. - Ref. CRELOG
- Preparation of the logo on an engraving machine. - Ref. CRELOGMAQ
- Engrave logo on 1-sided bollards. - Ref. LOGPI1C
- Engrave logo on 2-sided bollards. - Ref. LOGPI2C

Reflecting tape.
Extra removable base. - Ref. BEXTRA95
Extra removable key. - Ref. LLPE
Other colors (according to Ral chart).
Accessories:
1 ring for bollard.
Ref. S1AP
2 rings for bollard.
Ref. S2AP
Galvanized chain of ø 6 mm.
Ref. CG6100