SET BICYCLE PARKING CLEC
Clec bicycle rack set ideal for bicycles in public places: parks, gardens, schools, town halls... as well as in private places: urbanizations, communities of owners...
MEASURES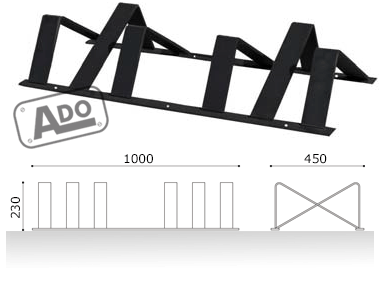 Ref. APCLECH4
Measures:
Width: 450 mm.
Height: 230 mm.
Length: 1000 mm.
FEATURES CLEC BICYCLE PARKING
Clec bicycle parking set built with a 60x6 mm handrail. in black iron (primed and lacquered) or in stainless steel.
Modular bicycle rack 1 meter long for four bicycles. U-shaped folded handrail.
Inner width for wheel: 75 mm.
Models:
Galvanized steel 4 bikes. - Ref. APCLECG4
AISI 304 stainless steel 4 bikes. - Ref. APCLECI4
Iron 4 bikes - Ref. APCLECH4
Corten steel. 4 bikes - Ref. APCLECC4
More information:
TECHNICAL SERVICE AND SALE OF BICYCLE PARKING
We have a technical department to provide service and advice in the facilities, we are manufacturers of outdoor bicycle racks in galvanized steel or stainless steel. Individual or group bike rack installers.