FEATURES CORTEN STEEL CONTAINER COVERS
Corten steel containers covers, designed to hide surface containers with 3 / 4 compartments according to customer needs. Solid and recycled waste collection point.
Built in corten steel with front doors facilitating the entry of garbage containers, top hinged lids with air piston to facilitate its opening for access to its interior. Stainless steel handles.
Front identification plates on each door. Anchorage to the ground with metal studs.
The container covers provide a good image by managing to have an area reserved for the containers, thus avoiding the change of their location. Ideal for ECO recycling points.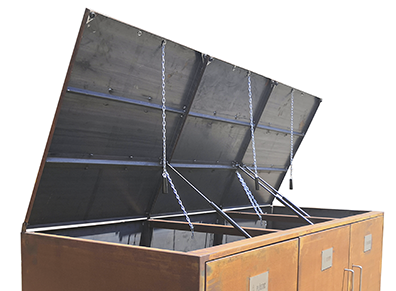 Opening detail upper folding lids covers containers.