Picnic table, Jorvi model, manufactured with autoclaved pine wood slats of 1940x93x45 mm. and with galvanized screws.
Table and bench set in one piece.
Wooden picnic set ideal for parks, gardens, service areas, forest areas, picnic areas…
Possibility to deliver the table mounted or disassembled, depending on customer needs.
Measures:
Width: 1680 mm.
Visual height: 780 mm.
Total height: 930 mm.
Lenght: 1940 mm.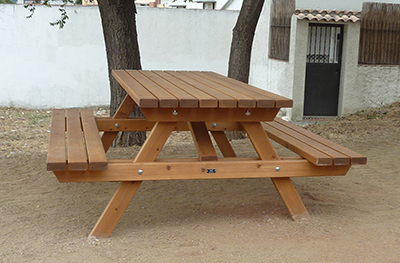 We are manufacturers and we can design and manufacture all kinds of assemblies according to customer needs.