REMOVABLE STAINLESS STEEL LUX BOLLARD
Ref. PLUX76BE
Measures:
Diameter: ø 90 / 104 mm.
Visual height: 800 mm.
Total height: 1000 mm.
Thickness: 2 mm.
Lux removable bollard, built with round tube ø 90 or 104 mm. 2mm thick, in gloss polished AISI-304 stainless steel, with integrated tubular key lock to fix to removable base in stainless steel and sendzimir galvanized steel.
Acabados estándar:
Glossy finishing. - Ref. PLUX76BE
Matt finishing. - Ref. PLUX76ME
Accessories:
1 ring for stainless steel bollard. - Ref.S1API
2 rings for stainless steel bollard. - Ref.S2API
Galvanized chain ø 6 mm. - Ref. CG6100
40mm brass padlock. with steel bow. - Ref. CNMCAD40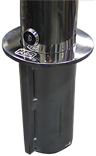 Removable base detail.
More information:
TECHNICAL SERVICE AND SALE OF STAINLESS STEEL REMOVABLE BOLLARDS
We have a technical department to provide service and advice in the installations, we are manufacturers of removable stainless steel bollards of ø90, ø104, ø204, ø220 pitecore to embed the galvanized base extracted from the base. down to the ground. installers mobile As bollard Uh3m, c-500 stainless steel montreal bollard, H2531m stainless steel bollard.