PROMARK RUBBER CABLE PROTECTOR
Promark double-track rubber cable protector ideal for protecting electrical wiring installed in construction sites, parties, demonstrations, shows, exhibitions, warehouses, shopping centers,...
MEASURES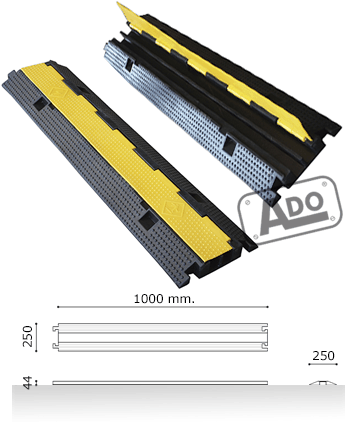 Ref. PROMARK01
Measures:
Length: 1000 mm.
Width: 250 mm.
Height: 44 mm.
2 internal channels for the passage of 30x30 mm cables.
FEATURES PROMARK RUBBER CABLE PROTECTOR
The protector has a flexible hinged cover providing easy and comfortable access to cables.
Weather resistant.
Abrasion resistant.
Non-slip surface.
Easy to install.
Easy to transport.
More information
Related products:

Procable cable protector
TECHNICAL SERVICE AND SALE OF CABLE PROTECTORS
We have a technical department to provide service and advice on installations, we are manufacturers of rubber cable protectors and installers of cable protectors.