PROWIRE FLEXIBLE RUBBER CABLE PROTECTOR
Prowire flexible rubber cable protector that is placed above the wiring to protect it and also prevent damage to people that need to pass over it.
The Prowire protector is ideal for protecting electrical wiring installed in construction sites, parties, demonstrations, shows, exhibitions, warehouses, shopping centers,...
MEASURES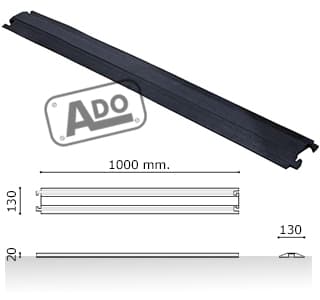 Ref. PROWIREN01
Measures:
Lenght: 1010 mm.
Width:130 mm.
Height: 20 mm.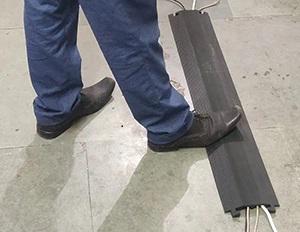 FEATURES PROWIRE FLEXIBLE CABLE PROTECTOR
The cables remain on the ground protected by the cable gland.
It has insertable elements at the ends to attach to the next cable gland, if necessary.
Non-slip rough surface.

More information
Related products:
TECHNICAL SERVICE AND SALE OF CABLE PROTECTORS
We have a technical department to provide service and advice on installations, we are manufacturers of rubber cable protectors and installers of cable protectors.