Rue litter bin, built with highly resistant and robust corten steel sheeting, built with a Y-shaped foot with a rounded edge and a lower floor plate to be installed by embedding. Includes corten activation on the outside.
With this design we wanted to achieve a litter bin in keeping with the aesthetics of other corten steel decoration elements, which are so fashionable these days, in turn achieving a robust and aesthetic litter bin.
Measures:
Diameter: ø 360 mm.
Total height: 950 mm.
Visual height: 750 mm.
Capacity: 50 l.
Optional:
Manufactured in lacquered iron or stainless steel.
Bricat finish (exterior catalyzed varnish).
Personalization with microperforated logo engraving.
- Logo creation. - Ref. CRELOG
- Logo preparation in engraving machine.
Ref. CRELOGMAQ
- Engrave logo on stainless steel sheet.
Ref. SUPPLALOG
To embed + trim.
Other measures to consult.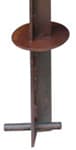 Corten finish options:

No blasting

Blasting

Activate and stop rust

Varnished
* The appearance of corten steel varies according to the processes selected by the client.