STEEL CORTEN LITTER BIN SIME
Sime litter bin made of iron or corten steel for outdoor use. Outdoor urban litter bin designed and manufactured with functional designs ideal for urban environments and public places such as parks, gardens, streets...
With this design we have created a litter bin in conformity with the aesthetic of other decorative steel corten elements, thus obtaining, at the same time, a robust and aesthetic litter bin.
MEASURES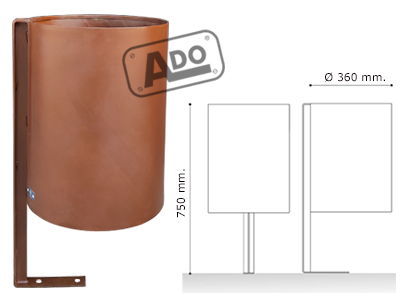 Ref. PSIMEC01
Measures:
Diameter: ø 360 mm.
Height: 750 mm.
Capacity: 50 l.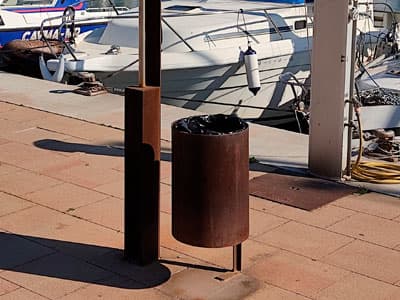 FEATURES SIME LITTER BIN
Litter bin Sime with design, manufactured with a steel corten sheet of high resistance and robustness, manufactured with rectangular feet, with rounded edges, and a bottom plate for fastening to the ground by means of metal plugs. Includes external corten activation.
Standard finishes:
Corten steel with plate. - Ref. PSIMEC01
Corten steel to embed. - Ref. PSIMEC02
Grey oxiron with plate. - Ref. PSIMEG01
Grey oxiron to embed. - Ref. PSIMEG02
Optional:
Inner stainless steel ring to fix the garbage bags.
Ref. AIP360
Matching corten steel ashtray
Ref. CROUCI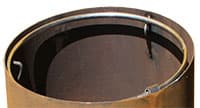 Bag fastening ring.
Manufactured in lacquered iron or stainless steel.
Bricat finish (exterior catalyzed varnish).
To embed + trim.
Other measures to consult.
Inner stainless steel ring to fix the garbage bags. - Ref. AIP360
Personalization logo:
- Logo creation. - Ref. CRELOG
- Logo preparation in engraving machine.
Ref. CRELOGMAQ
- Engrave logo on stainless steel plate
Ref. SUPPLALOG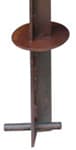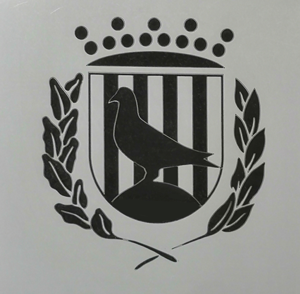 ×
Recommended screws bollard with plate:
For concrete: Block of 11. - Ref. T11L

For asphalt / panot: Block of 10. - Ref. T10X135

Corten finish options:

No blasting

Blasting

Activate and stop rust

Varnished
* The appearance of corten steel varies according to the processes selected by the client.
ASHTRAY ROU
Rou outdoor iron ashtray ideal for public places: parks, gardens, schools, town halls... as well as in private places: urbanizations, communities of owners...
MEASURES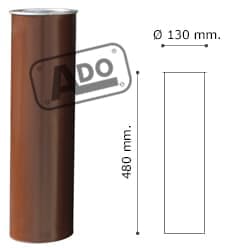 Ref. CROUCI
Measures:
Diameter: 80 mm.
Height: 480 mm.
Ashtray capacity: 6,6 litros.
FEATURES ROU ASHTRAY
Rou outdoor ashtray welded to a litter bin, made of corten steel or gray oxiron ø 130x480 mm. with stainless steel inner bucket. Ashtray emptied from the top.
Ideal ashtray as a complement to outdoor corten steel litter bins.
Standard finishes:
Corten steel - Ref. CROUCI
Grey oxiron - Ref. CROUG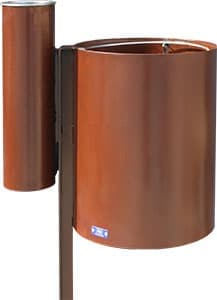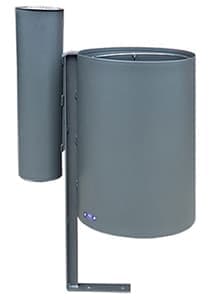 More information:
TECHNICAL SERVICE AND SALE OF OUTDOOR BINS
We have a technical department to provide service and advice in the facilities, we are manufacturers of outdoor litter bins in iron or corten steel. Circular litter bin installers.