TAP BOLLARD WITH VERTICAL LEDS (registered design)
Tap luminous bollard with low-consumption LEDs built with oxiron color sendzimir galvanized steel tube, upper part in stainless steel.
500mm led strip. high located vertically in the body of the bollard. Possibility of 1, 2, 3, 4 led strips (one on each side of the bollard).
MEASURES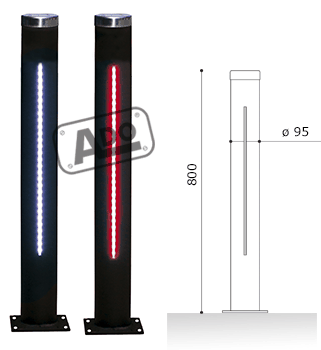 Measures:
Diameter: ø 95 mm.
Height: 800 mm.
Thickness: 2,5 mm.
FEATURES TAP LEDS BOLLARD
Bollard that offers great lighting on public roads with a very low electricity cost.
Bollard ideal for lighting paths, pedestrian areas, gardens, entrances, parks,...
Standard finishes:
Grey oxiron with a white led strip. - Ref. PTAPNLVB
Grey oxiron with two white led strips. - Ref. PTAPNLVB2
Grey oxiron with a red led strip. - Ref. PTAPNLVR
Grey oxiron with two red led strips. - Ref. TAPNLVR2
Optional:
Personalization with logo engraving.
Reflecting tape.
Other colors to consult.
Possibility of choosing different colors of LEDs as well as patterns and operating sequences.
Recommended screws:
For concrete: Taco of 11 - Ref. T11L

For asphalt / panot: Taco of 10. - Ref. T10X135

Accessories:
1 ring for stainless steel bollard. - Ref.S1API
2 rings for stainless steel bollard. - Ref.S2API
Galvanized chain ° 6 mm. - Ref. CG6100
40mm brass padlock. with steel bow - Ref. CNMCAD40
More information:
TECHNICAL SERVICE AND SALE OF IRON LUMINOUS BOLLARDS
We have a technical department to provide service and advice on installations. We are manufacturers of light bollards with low consumption LEDs in °95 Ptapl iron to embed or screw to the ground.