Litter bin Trecen manufactured with a steel corten sheet of high resistance and robustness, manufactured with rectangular feet, with rounded edges, and a bottom plate for fastening to the ground by means of metal plugs.
With this design we have created a litter bin in conformity with the aesthetic of other decorative steel corten elements, thus obtaining, at the same time, a robust and aesthetic litter bin.
Measures:
Diameter: ø 360 mm.
Height: 750 mm.
Capacity: 50 l.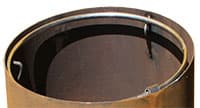 Bag fastening ring.
Optional:
Inner stainless steel ring to fix the garbage bags.
Ref. AIP360
Manufactured in lacquered iron or stainless steel.
Bricat finish (exterior catalyzed varnish).
Other measures to consult.
Personalization with microperforated logo engraving.
- Logo creation. - Ref. CRELOG
- Logo preparation in engraving machine.
Ref. CRELOGMAQ
- Engrave logo on stainless steel sheet.
Ref. SUPPLALOG
Inner stainless steel ring to fix the garbage bags. - Ref. AIP360
11 screw plug. - Ref. T11L

Corten finish options:

No blasting

Blasting

Activate and stop rust

Varnished
* The appearance of corten steel varies according to the processes selected by the client.