TRIAN BOLLARD (registered community design)
Design Trian bollard, built with a triangular structure, in rolled sheet of thick corten steel for greater rigidity, varnished to prevent future oxidation of the corten and decorative front sheet of satin stainless steel. All on corten steel anchor plate also triangular in shape, with three holes to fix to the pavement.
MEASURES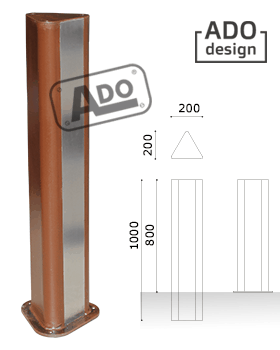 Ref. PTRIAN
Measures:
Width: triangle 200 mm.
Visual height: 800 mm.
Total height: 1000 mm.
FEATURES FIXED BOLLARD TRIAN
Bollard built with corten steel cylinder plate.
Recommended screws bollard with plate:
For concrete: Block of 11. - Ref. T11L

For asphalt / panot: Block of 10. - Ref. T10X135

Accessories:
1 ring for bollard. - Ref. S1AP
2 rings for bollard. - Ref. S2AP
Galvanized chain of ø 6 mm. - Ref. CG6100
40mm brass padlock. with steel arch. - Ref. CNMCAD40
Corten finish options:

No blasting

Blasting

Activate and stop rust

Varnished
* The appearance of corten steel varies according to the processes selected by the client.
More information:
TECHNICAL SERVICE AND SALE OF FIXED IRON BOLLARDS
We have a technical department to provide service and advice in the facilities, we are manufacturers of fixed iron bollards of 200x200 Ptrian to embed or screw.