FEATURES URBAN LEDS BOLLARD
Led of 500 mm height situated vertically on the bollard body. Possibility of 1,2,3,4 led light strips (one for each bollard front).
Bollard which provides a great lighting in the urban road, with a lower electrical cost.
Bollard ideal to light up urban roads, pedestrian areas, gardens, entrances, parks...
Standard finishes:
Grey oxiron with a white led strip. - Ref. PURBANNLVB
Grey oxiron with two white led strips. - Ref. PURBANNLVB2
Grey oxiron with a red led strip. - Ref. PURBANNLVR
Grey oxiron with two red led strips. - Ref. PURBANNLVR2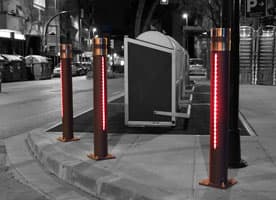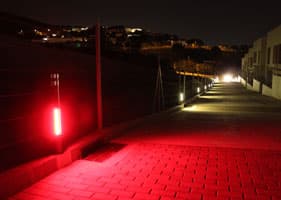 Optional:
Personalization with logo engraving.
Reflecting tape.
Other colors to consult.
Possibility of choosing different colors of LEDs as well as patterns and operating sequences.
Recommended screws:
For concrete: Taco of 11 - Ref. T11L

For asphalt / panot: Taco of 10. - Ref. T10X135

Accessories:
1 ring for stainless steel bollard. - Ref.S1API
2 rings for stainless steel bollard. - Ref.S2API
Galvanized chain ° 6 mm. - Ref. CG6100
40mm brass padlock. with steel bow - Ref. CNMCAD40