Automatic fold-down barriers for car parks, ideal to always keep your parking space reserved, avoiding the access of any other car can to it. Automatic fold-down barriers to park without getting out of the car.
Automatic fold-down barriers for car parks para parking through a 24 V automation system, allowing:
The immediate stop of the gearmotor in the event of an obstacle, thanks to the electronic amperometric stop device controlled by the control electronics.
Maximum safety for operator and end user, since all devices are powered with low voltage.
Guarantee of operation even with the lack of electric current: the group is also powered and operated with emergency battery power, or by connecting it to groups of continuity, normally already provided in buildings and community structures.
In the event of a power failure, it can be unlocked, allowing the arc to be opened manually.
Possibility to choose opening system, contact keys, controls and proximity cards.
Possibility to choose little or big arc.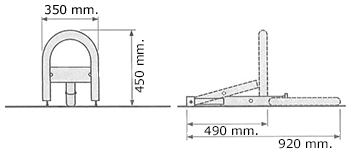 Ref. BAP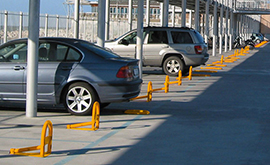 Ref. BAG