FEATURES URBAN BOLLARD
Its design compatible with city bollards allows the two models to be combined in the same environment.
Bollards built with internal and external anti-rust galvanized iron tube with anti-signs / stickers surface treatment.
Standard finishes:
Grey oxiron. - Ref. PURBAN
Optional:
Plate for bollard ø 95 mm. - Ref. SUPP
Reflecting tape.
Other colors (according to Ral chart).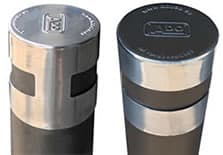 Urban bollard top detail.
Recommended screws bollard with plate:
For concrete: Block of 11. - Ref. T11L

For asphalt / panot: Block of 10. - Ref. T10X135

Accessories:
1 ring for bollard. - Ref. S1AP
2 rings for bollard. - Ref. S2AP
Galvanized chain of ø 6 mm. - Ref. CG6100
40mm brass padlock. with steel arch. - Ref. CNMCAD40