Removable Urban bollard inspired by the removable City bollard thus maintaining the aesthetics of the urban environment, a simple and cylindrical bollard built in galvanized iron plus oxiron or imitation corten. Top cap in stainless steel. Its design compatible with city bollards allows the two models to be combined in the same environment.
Base for anchoring to the ground to accommodate the bollard with a universal key lock on the upper cover of the base.
Bollards built with interior and exterior anti-rust galvanized iron tube with anti-poster / sticker surface treatment.
Standard finishes:
Oxiron. - Ref. PURBANE
Imitation corten. - Ref. PURBANICE
Optional:
Removable base with padlock.
Reflecting tape.
Extra removable base. - Ref. BEXTRA95
Extra removable key. - Ref. LLPE
Other colors (according to Ral chart).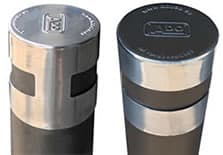 Top detail
urban bollard.
Accessories:
1 ring for bollard. - Ref. S1AP
2 rings for bollard. - Ref. S2AP
Galvanized chain of ø 6 mm. - Ref. CG6100
40mm brass padlock. with steel arch. - Ref. CNMCAD40