Home
>
Road signaling
>
Road studs
>
Boreal wired road studs light
WIRED ROAD STUDS LIGHT BOREAL
Boreal wired light road studs ideal for signaling on roads, tunnels, parks and airports.
MEASURES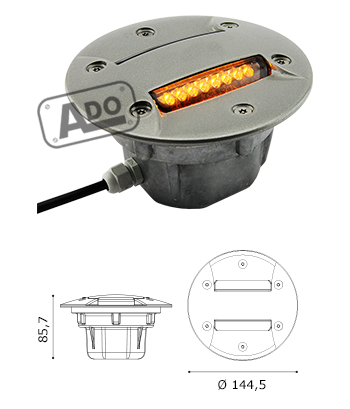 FEATURES BOREAL ROAD STUDS
The road studs signal the direction to follow by flashing the LEDs, thus increasing safety.
Technical features:
Wired system for solar or electric energy.
Current drivers to prolong the life of the LEDs.
Variable cable lengths.
Possibility of connecting N elements.
Polycarbonate window to protect the LEDs.
High brightness LEDs with color calibration and multiple colors.
Technical features:
Power supply: 12Vdc (amber and red) or 24Vdc (all colors).
Current consumption: 40mA (unidirectional) and 80mA (bidirectional).
Number of Leds: 8 Leds (unidirectional) and 16 Leds (bidirectional).
Led Color: Amber, Red, White, Blue, Green.
Material: upper part aluminum and bicarbonate and lower part aluminum.
Mechanical resistance 10 Tons.
Protection Index: IP68 and IK10.
TECHNICAL SERVICE AND SALE OF WIRED ROAD STUDS LIGHT
We have a technical department to provide service and advice on installations, we are manufacturers of LED recessed light fixtures.