Home
>
Road signaling
>
Road studs
>
Sunshine wired road studs light
WIRED ROAD STUDS LIGHT SUNSHINE
Sunshine wired road studs light ideal for signaling the existence of danger in roundabouts, curves, obstacles, access delimitation lines, traffic lanes for bicycles and buses, road shoulder lines and highways.
When it gets dark, the beacons signal the direction to follow by flashing the LEDs, thus increasing safety on the road and in traffic.
MEASURES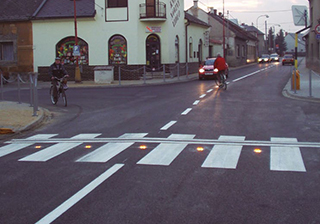 FEATURES SUNSHINE ROAD STUDS
Recessed wired light bollards that support the weight of heavy traffic (up to 90 tons).

Technical features:
Ideal for snow areas.
It rises from the ground 8.5 mm. thus improving the visibility of the LEDs.
Robust construction, suitable for harsh conditions.
High visibility during the day and night.
Wired system that can run on electric or solar power
Visibility distance up to 1 km.
Specifications:
Intermittent / Fixed operating mode.
Number of Leds 16 - 5 mm.
Color of Leds: Amber, Red, White, Blue, Green.
Unidirectional or bidirectional configuration led.
Viewing angle: 15º.
Minimum installation: 80 mm deep.
Material: polycarbonate and aluminum.
Protection: IP68 and IK10
TECHNICAL SERVICE AND SALE OF WIRED ROAD STUDS LIGHT
We have a technical department to provide service and advice on installations, we are manufacturers of LED recessed light fixtures.