Home
>
Road signaling
>
Road studs
>
Empo solar road studs light
EMBEDDED SOLAR ROAD STUDS LIGHT EMPO
Empo recessed solar light beacons using LEDs, ideal for signaling the existence of danger in roundabouts, curves, pedestrian crossings, obstacles, access delimitation lines, circulation lanes for bicycles, trams or buses, road shoulder lines, highways, highways,... Or simply as a decorative element.
MEASURES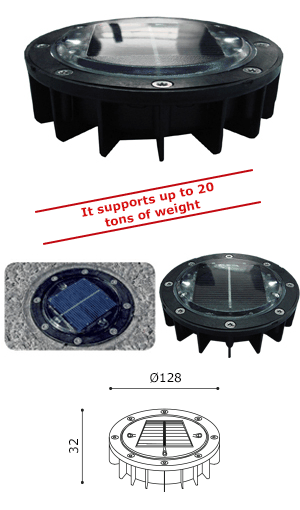 FEATURES SOLAR ROAD STUDS EMPO
Recessed solar light bollards that support the weight of heavy traffic (up to 20 tons).

GE - Lexan polycarbonate bollard.
Unidirectional / bidirectional configuration led.
2 LEDs.
Led colors: white, amber, red, green or blue.
Frequency: 60 Hz (steady light or flash).
Temperature range: -20ºC - 60ºC.
Visibility > 1 km.
Rechargeable lithium battery type: 2850 mAh with sunlight.
Weight: 330 grams.
Measurements: ø 128x32 mm.

Detail of a high tonnage truck passing over a enbedded solar road studs.

TECHNICAL SERVICE AND SALE OF SOLAR ROAD STUDS LIGHT
We have a technical department to provide service and advice on installations, we are manufacturers of LED recessed light fixtures.