Home
>
Road signaling
>
Road studs
>
Watersky solar road studs light
SOLAR ROAD STUDS LIGHT WATERSKY
Watersky recessed solar light beacons using LEDS, ideal for signaling the existence of danger in roundabouts, curves, pedestrian crossings, obstacles, access delimitation lines, circulation lanes for bicycles, trams or buses, road shoulder lines, highways, highways,... Or simply as a decorative element.
MEASURES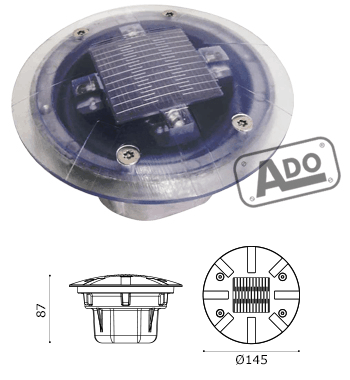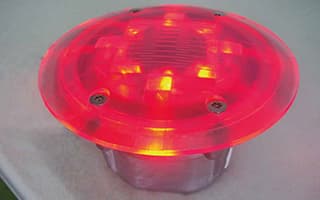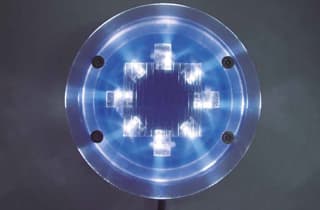 FEATURES WATERSKY ROAD STUDS
Recessed solar light bollards that support the weight of heavy traffic (up to 20 tons).

Technical features:
Visibility: 360ºC.
Very suitable for bike lane areas.
High performance photovoltaic module.
Energy storage in supercapacitors or batteries. -
Low consumption.
Visibility up to 1 km.
Operation mode: Always on or intermittent.
NI-MH battery: 1.2 Vdc / 1900mA or capacitor at 2.3Vdc / 120F:
Battery: 350 h (steady light); 1050h (intermittent lux).
Condenser: 26 h (steady light); 72h (intermittent lux).
Color of Leds: Amber, red, white, blue, green.
Leds Configuration: Unidirectional - possibility of combining
different Led colors in the same piece.
Measurements: ø 145 x 87 mm.
Projection: 15mm.
Minimum installation: 80 mm. deep.
Body: Aluminum.
Upper part: Polycarbonate.
Mechanical resistance: 20 tons.
Protection Index: IP68 and IK10.
Weight: 1kg.
Option: Wired solar beacon:
System powered by cable or power
electrical.
Possibility of connecting several
elements.
Variable cable length.
TECHNICAL SERVICE AND SALE OF SOLAR ROAD STUDS LIGHT
We have a technical department to provide service and advice on installations, we are manufacturers of LED recessed light fixtures.