Fountain Dogi with independent taps in iron or in stainless steel, push-button type, allowing the use for both people and animals. Water fountains in stainless steel for animals, with a hole in the central part to avoid stagnant water and with lateral lever to incline the water fountain. Fountains ideal to be installed in parks, gardens, streets, pipicans...
Measures:
Width: 150x150 mm.
Height: 1000 mm.
Inferior plate of 250x250 mm.
Does not include:
Does not include drain grate.
Does not include anchor
Finishes:
Grey oxiron - Ref. FDOGIG02
Blue lacquered - Ref. FDOGI01
Red lacquered - Ref. FDOGIR01
Corten steel - Ref. FDOGIC01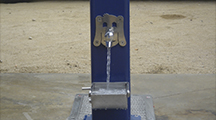 Lower faucet detail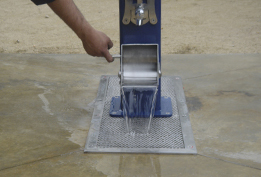 Emptying of the drinking trough for animals.
Optional:
Personalization with microperforated logo engraving.
- Logo creation. - Ref. CRELOG
- Logo preparation in engraving machine.
Ref. CRELOGMAQ
Other colors to consult.
Possibility of combining different colors according to customer needs.
Conventional ball type faucet.
Without bottom plate to embed (economic range).



Grid Options: