MEASURES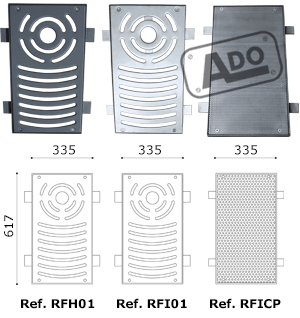 Measures:
Width: 335 mm.
Height: 615 mm.
Measures grate for water trough:
Width: 230 mm.
Height: 225 mm.
FEATURES URBAN FOUNTAIN GRIDS
Iron or stainless steel grids, for drainage of fountains with innovative design. Grids made of iron or stainless steel (depending on model).
The grids allow for the rapid drainage of waters towards the sump, thus avoiding, thanks to its small slots, the possibility of getting stuck with stones, leaves etc. that could enter the drainage area.
Models:
Iron. - Ref. RFH01
Stainless steel. - Ref. RFI01
Perforated sheet. - Ref. RFICP
Perforated sheet for water trough. - Ref. RFPICP