Nilo model designer fountain, various finishes to choose from, lacquered iron or stainless steel structure. Push button faucet.
Multifunctional fountains designed to avoid incivil acts, making it difficult to fill bottles.
Design fountains to install in parks, schools, gardens, streets with rounded edges to avoid possible damage,...
Measures:
Width: 200x460 mm.
Height: 1000 mm.
Models:
Gray lacquered iron.
Ref. FNILOG01
Red lacquered iron.
Ref. FNILOR01
Does not include:
Does not include anchor plugs.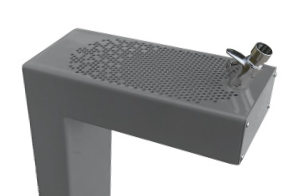 Drain detail at the top.
Optional:
Personalization with microperforated logo engraving.
- Logo creation. - Ref. CRELOG
- Logo preparation in engraving machine.
Ref. CRELOGMAQ
Other colors to consult.
Possibility of combining different colors according to customer needs.
Conventional ball type faucet.
Without bottom plate to embed (economic range).