IRON LITTER BIN LIFE
Life circular urban iron bin for outdoor use. Outdoor urban litter bin designed and manufactured with functional designs ideal for urban environments and public places such as parks, gardens, streets...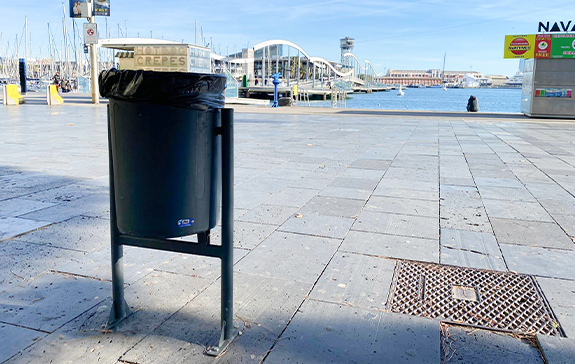 MEASURES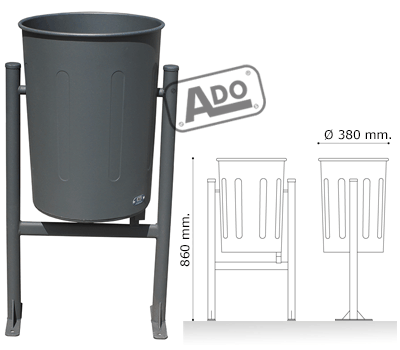 Ref. PLIFE01
Measures:
Diameter: ø 380 mm.
Height: 860 mm.
Capacity: 47 l.
FEATURES LIFE LITTER BIN
Fold-down iron litter bin Life, black color, with bottom plate for fastening to the ground by means of metal plugs.
Standard finishes:
Black forge. - Ref. PLIFE01

Litter bin with a tilting system.
Optional:
Logo customization:
- Creation logo. - Ref. CRELOG
- Preparation logo on engraving machine. Ref. CRELOGMAQ
- Engrave logo on stainless steel plate. Ref. SUPPLALOG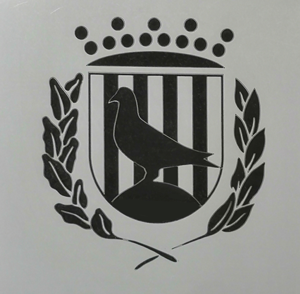 ×
Recommended screws bollard with plate:
For concrete: Block of 11. - Ref. T11L

For asphalt / panot: Block of 10. - Ref. T10X135

ASHTRAY LILLA
Lilla outdoor ashtray adaptable to round tubes up to diameter ø 40 mm. or to install directly to the wall. Ashtray emptied from the bottom, lid closure emptied by means of a spring.
MEASURES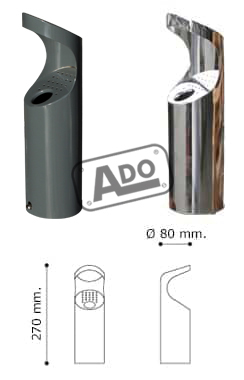 Measures:
Diameter: ø 80 mm.
Height: 270 mm.
Internal ashtray capacity: 0,75 litros.
FEATURES LILLA ASHTRAY
Ideal ashtray as a complement to the round tube outdoor litter bins.
Finishes:
Grey lacquered. - Ref. CLILLALG01
Stainless steel. - Ref. CLILLA01
Installation:
Using M6 screws, sheet metal screw, flanges (includes 2 flanges) or chemical plug (not included).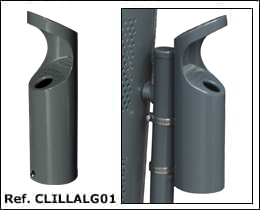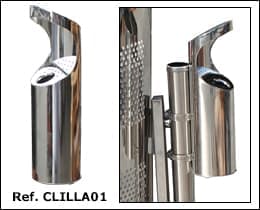 More information:
TECHNICAL SERVICE AND SALE OF OUTDOOR BINS
We have a technical department to provide service and advice in the facilities, we are manufacturers of outdoor iron bins. Installers of circular litter bins vida xxi pa679.