IRON SEMICIRCU WALL LITTER BIN
Semicircle wall-mounted iron litter bin made of micro-perforated sheet metal and round tubes to mount with metal plugs to the wall.
MEASURES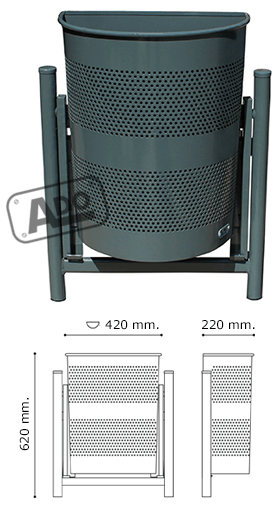 Ref. PAPEHIERSEMIP
Measures:
Width: 420x220 mm.
Height: 620 mm.
Capacity: 33 l.
FEATURES SEMICIRCU WALL LITTER BIN
Semicircular galvanized iron litter bins with a lacquered finish in grey.
Optional:
Logo customization:
- Creation logo. - Ref. CRELOG
- Preparation logo on engraving machine.
Ref. CRELOGMAQ
- Engrave logo on stainless steel plate.
Ref. SUPPLALOG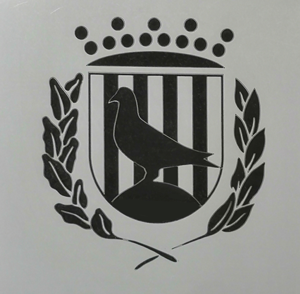 ×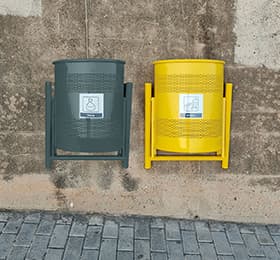 More information:
ASHTRAY LILLA
Lilla outdoor ashtray adaptable to round tubes up to diameter ø 40 mm. or to install directly to the wall. Ashtray emptied from the bottom, lid closure emptied by means of a spring.
MEASURES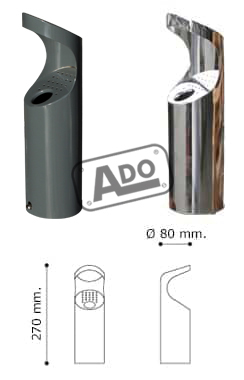 Measures:
Diameter: ø 80 mm.
Height: 270 mm.
Internal ashtray capacity: 0,75 litros.
FEATURES LILLA ASHTRAY
Ideal ashtray as a complement to the round tube outdoor litter bins.
Finishes:
Grey oxiron. - Ref. CLILLAG01
Grey lacquered. - Ref. CLILLALG01
Stainless steel. - Ref. CLILLA01
Installation:
Using M6 screws, sheet metal screw, flanges (includes 2 flanges) or chemical plug (not included).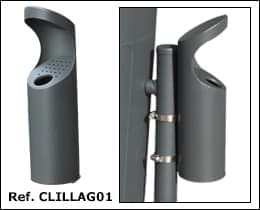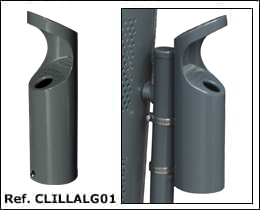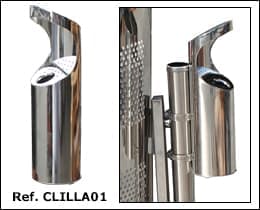 More information:
TECHNICAL SERVICE AND SALE OF OUTDOOR BINS
We have a technical department to provide service and advice in the facilities, we are manufacturers of outdoor iron bins. Semicircular litter bin installers.