FLAIER RAMP SAFE CURB
The Flaier ramp is the perfect solution so that all types of vehicles or people with reduced mobility can easily climb a step or sidewalk of up to 160 mm. Tall.
Ideal product for people in wheelchairs, temporary works on urban roads, loading areas (trolleys or pallet jacks),...
MEASURES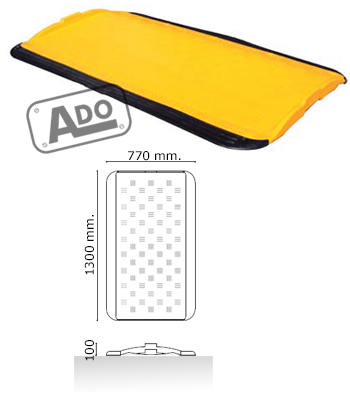 Ref. FLAIER01
Measures:
Length: 1300 mm.
Width: 770 mm.
Height: 100 mm.
Weight: 10 kg.
FEATURES FLAIER RAMP SAFE CURB
Made of high-density polyethylene (HDPE) and PVC, making it a 100% recyclable product.
Non-slip surface with rounded edges facilitating the passage.
It adapts to different heights of sidewalks or steps, varying from 60 mm. at 160mm.
It has great stability without screwing.
It can be screwed if the site conditions are suitable for it.
Easy transport and storage.
Supports up to 350 kg.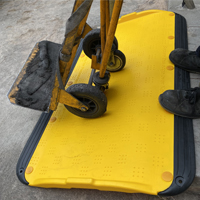 More information
TECHNICAL SERVICE AND SALE OF TRENCH COVERS
We have a technical department to provide service and advice on installations, we are manufacturers of trench-guard walkways and installers of protective plates for works.