SWIPER FIBERGLASS TRENCH COVERING WALKWAY
The Swiper trench cover is ideal for temporarily plugging holes and trenches on construction sites.
It is a light but rigid product, since it is reinforced with fiberglass, which makes it possible to eliminate the use of the classic iron plates traditionally used to cover trenches, maintaining performance in the most demanding situations.
MEASURES
Ref. SWIPER01
Measures:
Width: 800 mm.
Height: 30 mm.
Lenght: 1200 mm.
Weight: 13 kg.
FEATURES SWIPER TRENCH COVER
Molded in a single reinforced fiberglass piece.
Non-slip surface.
Covers a trench up to 700 mm.
Supports a weight of up to 500 kg.
Fiberglass reinforced center section.
Non-slip surface and beveled edges.
It weighs less than a metal deck.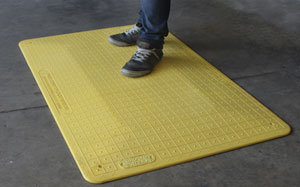 More information
TECHNICAL SERVICE AND SALE OF TRENCH COVERS
We have a technical department to provide service and advice on installations, we are manufacturers of trench-guard walkways and installers of protective plates for works.