PLASTRONG PLASTIC TRENCH COVERING WALKWAY
Plastrong plastic trench cover walkway ideal for temporarily covering holes in construction sites.
MEASURES
Ref. SZAM02
Measures:
Width: 755 mm.
Height: 50 mm.
Lenght: 1355 mm.
Weight: 21 kg.
FEATURES PLASTRONG PLASTIC TRENCH COVER
Easy assembly and transport due to its low weight.
Don't rust
Modular assembly of parts.
Avoid noise when passing vehicles and pedestrians.
Steel-reinforced base that allows the temporary passage of vehicles or people, supports up to 1 ton of distributed weight.
Non-slip floor.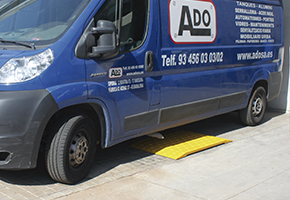 More information
RAILING SUPPLEMENT FOR TRENCH COVERING WALKWAY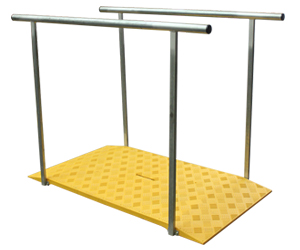 Supplement for SZAM02 plastic trench cover with galvanized railing on both sides of the trench guard, 1 meter high, composed of an upper handrail made of a ø 40 mm round tube. Ideal for temporarily covering holes in construction sites, allowing pedestrians to pass.
Ref. BGSZAM02
TECHNICAL SERVICE AND SALE OF TRENCH COVERS
We have a technical department to provide service and advice on installations, we are manufacturers of trench-guard walkways and installers of protective plates for works.