LIPER FIBERGLASS TRENCH COVERING WALKWAY
The Liper trench cover is ideal for temporarily covering holes and trenches on construction sites.
Primarily designed for use in street construction work. Made from a single piece of fiberglass reinforced composite, it can take a distributed weight of up to 2 tons.
MEASURES
Ref. LIPER01
Measures:
Width: 1200 mm.
Height: 25 mm.
Lenght: 1600 mm.
Weight: 33 kg.
FEATURES LIPER TRNCH COVER
Molded in a single reinforced fiberglass piece.
Non-slip surface.
Covers a trench up to 900 mm.
Supports a distributed weight of up to 2000 kg.
Fiberglass reinforced center section.
Non-slip surface and beveled edges.
It weighs less than a metal deck.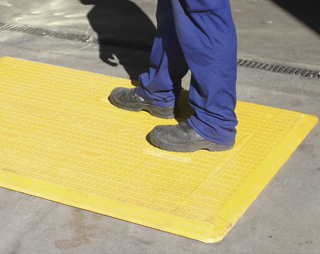 More information
TECHNICAL SERVICE AND SALE OF TRENCH COVERS
We have a technical department to provide service and advice on installations, we are manufacturers of trench-guard walkways and installers of protective plates for works.